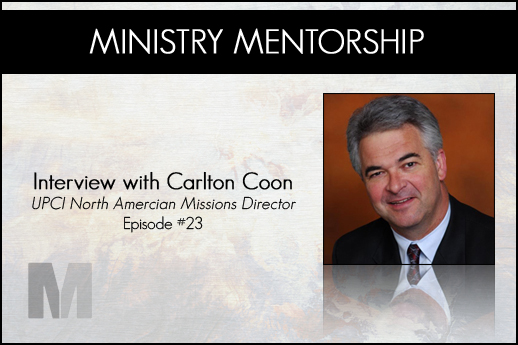 In this interview, Jacob Tapia interviews Rev. Carlton Coon, Director of North American Missions. Carlton Coon has a passion for reaching the lost and developing leaders in the Apostolic movement. You will feel his passion and love for the world and for God as you listen to this interview.
Click to Listen
In this interview Carlton Coon discusses these topics:
Early ministry experiences.
Developing long-term vision in ministry.
The importance of having mentors.
Planning for success.
Dealing with frustration and jealousy in ministry.
Report from the North American Missions Division.
The importance of church planting in North America.
Getting involved with Apostolic Youth Corps and helping in new churches.
The importance of ministry preparation and personal evangelism, and living debt free.
Responding properly to frustration in ministry.
Resources for personal development.
Connecting with mentors.
More By Carlton Coon
Connect
Follow Carlton Coon on Twitter, Facebook, and at the North American Missions website.
Announcements
Our Ministry Mentorship Podcast is up and running. If you enjoy this podcast please rate it on iTunes and write a brief review. Help us spread the word!
Subscribe
Subscribe to Ministry Mentorship website and receive updates on a weekly basis.
Your Feedback
If you have an idea for a podcast you would like to see or a question about an episode, email Jacob Tapia (Administrator).