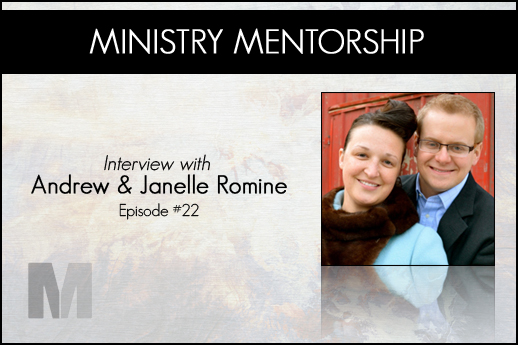 Andrew & Janelle Romine are full-time Evangelists with the UPCI. They have been involved in ministry for many years and are being used by God in a tremendous way. In this interview you will hear them discuss several important aspects of ministry.
Click to Listen
Recommended Reading by Andrew Romine
Dear Timothy: Letters from the hearts of elders – Brent Watts

The Making of a Man of God – Alan Redpath

The Greatest Thing in the World – Henry Drummond

The Remnant: Restoring Integrity to American Ministry – Larry Stockstill

Lectures To My Students – Charles H. Spurgeon

How To Prepare Sermons – William Evans

Steal Like an Artist: 10 Things Nobody Told You About Being Creative – Austin Kleon
As you listen to this podcast you will hear the Romines discuss these topics:
Starting out in ministry.
The difference between a gifting and a calling.
The importance of involvement in the local church.
Challenges facing ladies in ministry.
Women in ministry: Finding your purpose and passion.
Single ladies in ministry.
Preparation for preaching.
The importance of personal devotion.
Questions to ask while preparing to preach.
Knowing your place as a minister.
Dealing with transition in our ministry.
Living by faith and trusting God through transition.
The importance of submission to authority.
Responding to the call of God.
Being willing to serve.
The importance of being involved right now.
Finding a mentor.
Connect
Follow the Romine's on Twitter. Become a subscriber and add Ministry Mentorship to your Address Book.
Your Feedback
If you have an idea for a podcast you would like to see or a question about an episode, email Jacob Tapia (Administrator).