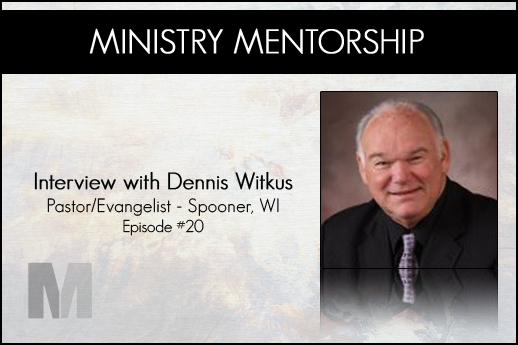 God blesses people with unique talents in order to effectively spread the Gospel! This is certainly true of Pastor and Evangelist, Dennis Witkus. He is the Pastor of the First United Pentecostal Church in Spooner, WI. He has been involved in ministry for over 40 years. His vocal talents have blessed many chilrden's camps and special services all over the world. Listen to Dennis Witkus talk about his experiences in ministry.
Click to Listen
As you listen to this interview with Dennis Witkus you will hear him discuss these topics:
Early days in ministry.
Motivation for ministry.
The importance of a personal calling.
Staying open to God's direction.
Preparing for ministry.
The importance of the encouragement of others.
Involving family in ministry.
Connect
Connect with Dennis Witkus through Facebook, Email, or call on Saturdays (Seven One Five) 520-7062. Become a subscriber and add Ministry Mentorship to your Address Book.
Your Feedback
If you have an idea for a podcast you would like to see or a question about an episode, email Jacob Tapia (Administrator).