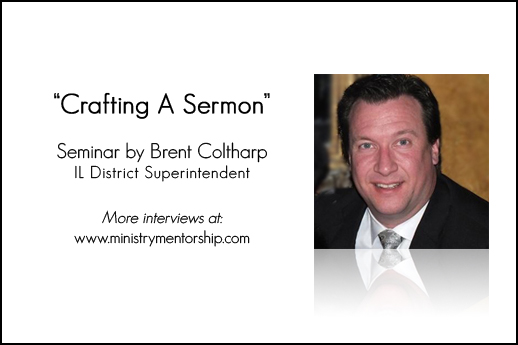 Preaching is a vital part of a minister's life. While some may not feel called to a "pulpit" ministry, a minister must always be ready to "give an answer" and proclaim their personal testimony of what Jesus Christ has done in their life (Acts 1:8). They must also be able to proclaim the Gospel (I Cor. 15:1-4). Brent Coltharp is the District Superintendent of the Illinois District (UPCI). He is a tremendous preacher and leader. This session was taught to young ministers at the 2013 Illinois Youth Convention.
Listen as Bro. Coltharp explains the process of sermon development and covers these topics:
Developing proper expectations and defining success in our preaching. We preach to sow the seed of the Word of God in many different situation.
Becoming a student of the Word. Our messages should come out of our own personal walk with God.
Identifying your subject. Pray for the people not for sermons.
Prepare for your message in advance. God is able to put something on your heart for the future.
Applications and online tools for effective sermon preparation.
Questions to ask about the Scriptures. What does the Bible say about this subject? Why or why not? Who in the Bible has dealt with this situation? What did or didn't they do? Did Jesus ever address this topic?
Developing proper interpretation (Hermeneutics) of the Scriptures. We should modify our position as we come to a deeper understanding of the Word of God. It should change us instead of us changing it.
Additional aspects of interpretation. The divine inspiration of the Scriptures. Studying the historical/grammatical background.
Using dictionaries and commentaries.
Organizing a message. Identifying main thing that everyone in the audience needs to hear, to know, and to do.
Defining the type of sermon: expository, textual, topical, or narrative. Developing an outline. Using repetition.
Identifying the different parts of the sermon. Orientation, identification, illumination, & application. Creating a template for sermon development.
Finding and using illustrations.
Click to Listen
Connect
Follow Brent Coltharp on Twitter or visit www.facaurora.org. Become a Subscriber. Add Ministry Mentorship to your address book.
Your Feedback
If you have an idea for a podcast you would like to see or a question about an episode, email Jacob Tapia (Administrator).