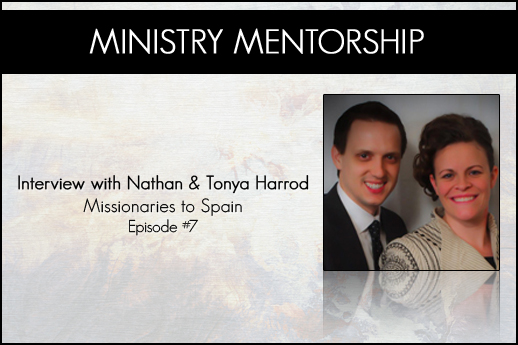 In this interview with Nathan & Tonya Harrod you will hear them talk about their field of labor and how they discovered the will of God for their ministry. The Harrods currently serve as missionaries to Spain. They are seeing great miracles happen in their ministry and are tremendous ministers of growth and revival. In this interview the Harrods discuss several topics that relate to young ministers.
Click to Listen
Here are some of the topics discussed in this interview.
Testimonies Of Miracles And Healings/Revival.
The Harrod's Journey Into Missions.
How Do We Follow The Call To Missions?
Missions Opportunities That Are Available Through The United Pentecostal Church Global Missions.
The Impact Of Missions Trips.
Do I Have To Be A Preacher To Do Missions (Ladies Emphasis)?
How God Is Working In The Church Today By Restoring Apostolic Authority.
How We Can Support Missionaries/Missions Through Prayer And Giving.
Seeking The Kingdom Of God First In Our Ministries.
Connect
Follow Nathan & Tonya Via Facebook, Twitter, Youtube, And Their Webpage. Become a subscriber or add Ministry Mentorship to your Address Book.
Your Feedback
If you have an idea for a podcast you would like to see or a question about an episode, email Jacob Tapia (Administrator).