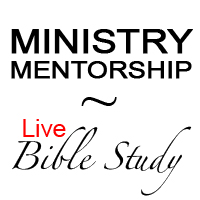 Click on the arrow to start the feed during our scheduled study time. Refresh your browser if necessary.
DOWNLOAD A LESSON HANDOUT!
GET INVOLVED DURING THE LESSON!

Overview
The Ministry Mentorship LIVE Bible Study is a monthly web event was created with the purpose of being a discipleship tool for young ministers. Participants include Jacob Tapia, Angela Harwood, and Micah Wisdom.

2014 Bible Study Studies
April 2014 / Special Guest: Lori Wagner / Topic: "Creative, Cultivating, Climate Preparing, Conflict Conquering Prayer" / Click HERE to view (Youtube) / (DOWNLOAD LESSON HANDOUT)
May 27 / 8PM CST / Special Guest: Mitchel Bland / Topic: "A Minister's Emotional and Spiritual Wellbeing" (DOWNLOAD LESSON HANDOUT)
June 24 / 8PM CST / Special Guest: Akil Thompson / Topic: "Knowing the Times & Seasons of Our Lives" / (DOWNLOAD LESSON HANDOUT)
August 26 / 8PM CST / Special Guest: Ashley Leppo / Topic: "The Rush & The Rest"
(DOWNLOAD LESSON HANDOUT)
September 23 / 8PM CST / Special Guests: Shawn & Stephanie Stickler / Topic: "Money & Ministry" (DOWNLOAD LESSON HANDOUT)
October 2014 / Special Guest: Angela Harwood / Topic: "The Wounded Healer" / (DOWNLOAD LESSON HANDOUT)