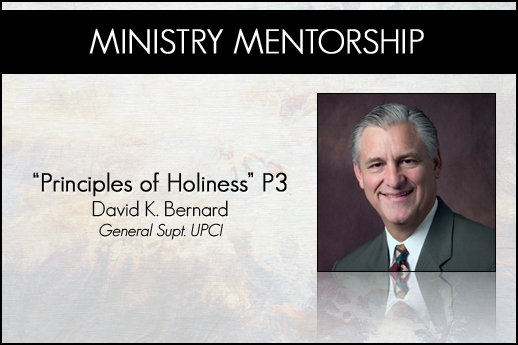 "FOLLOW PEACE WITH ALL MEN AND HOLINESS (HEBREWS 12:14)"
In this video David Bernard (Gen. Supt. of the United Pentecostal Church International) speaks about the importance of holiness in the life of a believer. He gives practical teaching on the subject and also covers these points in part 3 of his lesson:
A holy life is a privilege.
The motivation for holiness is faith, love, and the Holy Spirit.
Holiness is God's work in us.
Holiness does not earn our salvation.
Holiness should come as a result of our salvation.
Our relationship with God is built on faith and obedience.
Love motivates us to please God.
Watch
Connect
Follow David Bernard on Twitter, Facebook, and at UPCI.ORG. Become a subscriber or add Ministry Mentorship to your Address Book.
Your Feedback
If you have an idea for a podcast you would like to see or a question about an episode, email Jacob Tapia (Administrator).