Dear Friend,
Do you want to become more effective teaching people the truth about salvation? Wouldn't you like to be able to share your faith in an easy to understand and logical format? Do you feel passionate about seeing people saved?
One thing is for sure: Doctrine Does Matter!
It's Time To Know Where To Look
So many people in the church today know about doctrine, but they cannot show you where to find it. They have a general idea of where to find some Scriptures, but they could not walk you through a consistent, logical presentation of their beliefs. This problem affects many people who want to share doctrine in a meaningful way:
Young ministers who want to know how to teach someone about salvation.

Men who want to start a Bible study on their job site.

Young people who have a desire to start a campus ministry.

Prison workers trying to disciple the incarcerated.

Youth workers who are seeking to teach their young people in a small group setting.
No matter who you are, knowing what you believe and how to find it in Scripture is vital to being effective in ministry.
Get In The Word
Enjoy the tremendous ease and clarity brought out in this Apostolic resource by Rev. O.C. Marler (Interview with O.C. Marler). In it he gives a no-nonsense approach to the Doctrinal truths of the Bible. As a trusted Bible teacher for many years, O.C. Marler has created this book covering the basics of Bible doctrines essential to salvation. In this book he explores Scriptures and relates them in a powerful way to the reader.
Find Your "Map"
"Doctrine Does Matter" was designed specifically to give the reader a road map to follow. The information found in this book on doctrine allows the reader to make their Bible a powerful tool to be used in teaching Bible studies. Each Scripture flows into the next one. By marking the Scriptures in your Bible, you will be able to create an in-depth study that is perfect for teaching someone about salvation.
Also available in Spanish and German.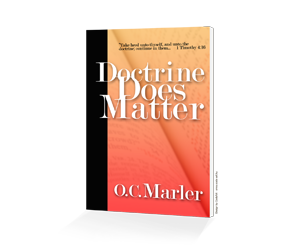 You can purchase this book by clicking on the link below.*
GET YOUR COPY!
*SHIPS TO UNITED STATES ONLY! Please allow 2-3 weeks for delivery via USPS.