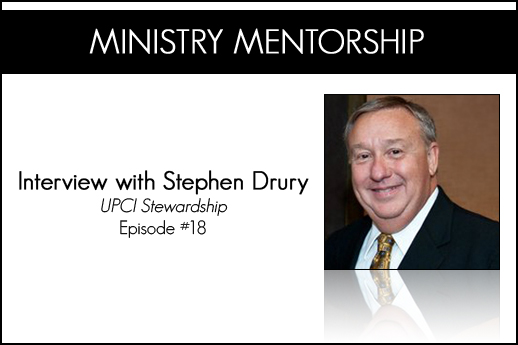 Interview With Stephen Drury
"YOUR FIRST RESPONSIBILITY IS TO YOUR FAMILY AND TO THE FAMILY OF GOD" Sometimes it is difficult for us to take the time to put a plan in place for the future. As a young minister, we must take the initiative to be good stewards of what God has entrusted to us. In this interview with Stephen Drury we will hear about the importance of proper planning and preparation for the future. Stephen Drury is the Director of Stewardship for the UPCI (Read his full bio here). Visit the Stewardship website.
Click to Listen
As you listen to this interview with Stephen Drury, you will hear him discuss these topics:
Early experiences in ministry.
Developing a proper attitude towards money as a tool.
Our first responsibility is to our family and the family of God.
How debt can affect our lives.
Planning for our financial future.
The importance of education, learning to budget, having disability & life insurance, planning for retirement, and having an estate plan.
Planning for children's insurance and setting up a power of attorney.
The uncertainty of life and the importance of preparing for the future.
The importance of having a formal education.
Connect
Connect with Stephen Drury via phone 314.837.7304 x309, Email, Facebook, or Twitter. Become a subscriber. Add Ministry Mentorship to your Address Book.
Your Feedback
If you have an idea for a podcast you would like to see or a question about an episode, email Jacob Tapia (Administrator).