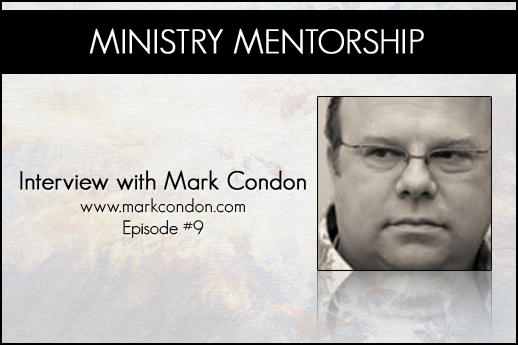 In this interview with Jacob Tapia, worship leader Mark Condon shares his thoughts on worship and ministry. Mark Condon has written many powerful worship songs and is a leader in the area of worship. Visit www.markcondon.com. His passion is to "wrap worship around the world". Listen to his timely insight into finding and doing the will of God and following the dreams God has given you.
Click to Listen
In this interview Mark Condon speaks about the following topics:
The driving force behind his vision/passion.
Discerning whether a dream is from God or our flesh.
Developing our dreams through preparation and action.
Dealing with setbacks.
People that have encouraged him in ministry.
Staying true to the Apostolic Faith.
Having the right influences in our life.
Handling criticism.
Creating a culture of worship.
Connect
You can reach Mark at his website www.markcondon.com. Reach him on Facebook and Twitter. Become a subscriber or add Ministry Mentorship to your Address Book.
Your Feedback
If you have an idea for a podcast you would like to see or a question about an episode, email Jacob Tapia (Administrator).